A liver biopsy is a procedure to remove a small piece of liver tissue that can be replaced in the liver. Thus, it can therefore be examined under a microscope for signs of damage or disease of the liver. If your blood tests and imaging tests reveal liver problems, your doctor may ask you to perform a liver biopsy.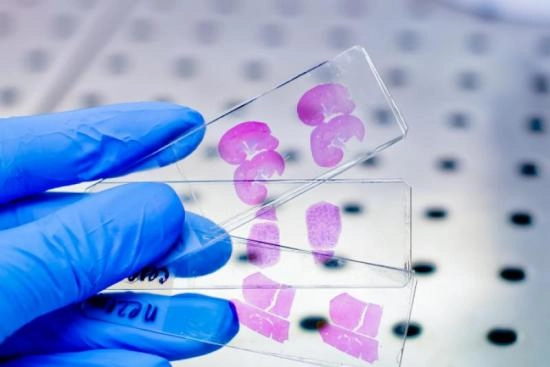 Who is this procedure for?
This treatment is reserved for people in whom there is:
An increase in transaminases (enzymes indicating liver damage)
A positive viral DNA test (PCR)
Side effects
Hematoma
Hemorrhage in the peritoneum
Infection
Intervention or treatment's duration
The accuracy of the content has been reviewed by our Medical Commission.
Liver biopsy procedure in Turkey
A liver biopsy procedure can be used to determine the severity of the liver disease. This information helps guide treatment decisions. However, that the most common type of liver biopsy is (percutaneous liver biopsy). This type is done with a thin needle that is inserted through the abdomen into your liver and a small piece of tissue is removed. There are two other types of liver biopsies that are used to remove liver tissue with a needle; one uses a vein in the neck (intravenously),while the other uses a small incision in the abdomen (laparoscopically).
A liver biopsy may be done for the following reasons:
• Diagnose a liver problem that cannot be determined otherwise
• Obtaining a tissue sample of a deformity found in an imaging study
• Determine the severity of liver disease - a process known as staging
• Help develop treatment plans based on liver condition
• To determine the effectiveness of the treatment of liver disease
• Liver monitoring after liver transplantation
Your doctor may instruct you to have a liver biopsy if you have:
• Unexplained abnormal liver test results
• A lump (tumor) or other abnormality in the liver as seen on imaging tests
• Persistent fever
A liver biopsy may also be done to help diagnose and often stage-specific liver diseases, including:
• Non-alcoholic fatty liver disease
• Chronic hepatitis A and B
Immune hepatitis
• Alcoholic liver disease
• Primary biliary cirrhosis
• Primary sclerosing cholangitis
• hemochromatosis
• Wilson's disease
The risks of a liver biopsy
A liver biopsy is a safe procedure if performed by an experienced doctor. Possible risks include:
Pain at the biopsy site is the most common complication after a liver biopsy. Pain after a liver biopsy is usually only mild discomfort. If the pain makes you uncomfortable, you may be given narcotic pain relievers, such as acetaminophen with codeine (Tylenol with codeine).
Bleeding can occur after a liver biopsy. Heavy bleeding may require you to be admitted to the hospital for a blood transfusion or surgery to stop the bleeding.
Rarely, bacteria can enter the abdominal cavity or the bloodstream. Accidental injury to a nearby limb. In rare cases, the needle may prick another internal organ, such as the gallbladder or lung, during the liver biopsy.
Transjugular liver biopsy in Itsanbul
A thin tube is inserted into a large vein in your neck, then threaded through a vein that passes through your liver. If you have had a transjugular liver biopsy, other uncommon risks may include:
Hematoma in the neck
Blood may collect around the place where the catheter was inserted, which can cause pain and swelling
Problems with the nerves in the face
Rarely, a transjugular liver biopsy can damage nerves and affect the face and eyes, causing short-term problems, such as ptosis.
Temporary sound problems
Your voice may become hoarse or weak, or you may lose your voice for a short time
A hole in the lung
If the needle accidentally pricks the lung, it may collapse (pneumothorax).
How much does the treatment cost in Turkey?
Turquie Santé is at your disposal to provide you with the best clinics in Istanbul Turkey to perform a liver biopsy in the right conditions and with the best prices. Experienced doctors will take care of performing your procedure in the best hospitals or clinics in Turkey, Izmir, Antalya, and Ankara.
Share this page