Calf Augmentation Surgery in Turkey
What are Calf Implants?
Many people are not satisfied with the appearance of their legs. That's where calf augmentation surgery comes in. Calf implants are silicone-based prostheses designed to improve the overall look and shape of the calves.
What is a Calf augmentation Surgery?
Calf augmentation is a surgical procedure that is performed by qualified plastic surgeons. It has a high rate of success and minimal side effects. That's why we will give you some important tips about calf implants and reveal to you all the secrets of a calf implant procedure. Read this information carefully before making your appointment with your doctor.
Package price of Calf implants in Turkey
With our hospitals, the average price of the package Calf implants in Turkey is
4500 €
.
The cost of the procedure Calf implants in Turkey depends on several factors such as the type of surgery you are going to have, the clinic and the experience of your surgeon.
Discover the pack
The accuracy of the content has been reviewed by our Medical Commission.
Photos: Before / After (2)
Who is this procedure for?
People with thin legs or deformed calf muscles
People who want to improve the shape of their legs
Side effects
Muscle pain
Inflammation
Hematoma
Infections
Intervention or treatment's duration
The surgery takes from 1 to 3 hours
Recovery time
Discharge from hospital on the same day after the procedure
Return to work 2 weeks after surgery
Complete recovery of calf tissue 6 months after surgery
Gallery (1)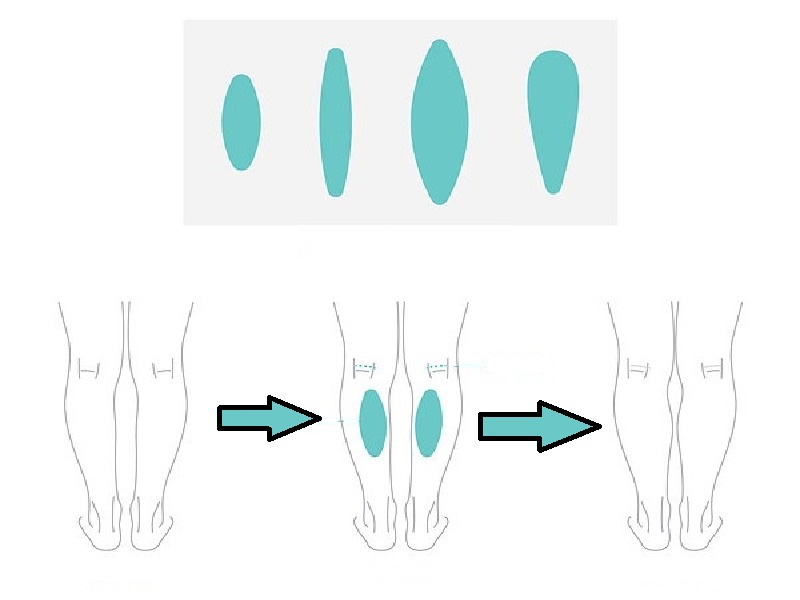 How do Calf Implants work?
Calf implants are inserted by your plastic surgeon into the calves to fill up empty space and make them look fuller. This is an optimal choice for patients with thin legs. After the operation, your will notice that your calves became larger in size.
Types of calf implants
Silocone-based calf implants:
Most calves implants contain silicone with a rubbery consistency. Inserted under the skin, they make the concerned body part fuller and more pronounced. This helps define the calf muscles and make them look bigger.
Calf enhancement withfat transfer
Fat grafting is sometimes a good choice for overweight patients. During this procedure excess fat is taken from the stomach or thighs of the patient and then transferred to the calves by making a small incision through the skin.
Calf Prostheses VS Fat Transplantation: Pros and Cons
Fortunately, nowadays many options are available for patients with thin legs on the market. Compared to calf implants that are inserted directly into the calves, fat grafting provides a more discrete and non-invasive method for solving leg issues.
Can a Calf Augmentation surgery combined with another one?
In some cases, calf implants are used in conjunction with fat grafting for giving the calves a more defined and convex shape. The symmetry and proportions of the legs are improved by a lot. For optimal results, your surgeon might recommend combining the two treatment methods together.
Does a Calf implant require anaesthesia?
A calf implant is an invasive surgery. That's why your suregeon may reccommend a general anaesthesia for relieving pain during the operation. Sometimes the whole procedure is done under local anaesthesia instead.
The duration of a Calf Augmentation Procedure
A calf implant surgery per se takes about an hour and a half. This does not include the preparation time before surgery, as well as recovery from anesthesia.
First, the cosmetic surgeon will first inject your calves with an anesthetic to numb them. Then he will make incisions for inserting the silicone implants. When the operation is finished, the surgeon sews up the wound.
How long does a Calf Implant last?
Generally speaking, a calf augmentation's effect is not durable and lasts from 10 to 15 years. Actually a lot depeneds on daily habits, age, body weight and many other factors.
What is the final result of a Calf Augmentation Surgery?
A calf augmentation is a safe cosmetic surgery. Therefore serious complications are excluded. However, there are some possible side effects. These include among others:
Bruising;
Redness;
Soreness;
Swelling.
Calf augmentation is a plastic surgery with a very high succes rate, compared to other aesthetic procedures. Many patients are satisfied during the postoperative period. An immediate and visible change in the size of the legs is noticed. In addition to that, the shape of the legs is greatly enhanced and the contour of the calves become more defined.
The recovery period needed after a Calf Implant
As rule of thumb, patients are advised to take a few days off work for a full and complete recovery. The doctor may prescribe compression bandages that need to be applied and kept on the knees for at least two weeks after the procedure. During this period you shoud avoid strenuous activities and heavy exercices, like go to the gym or walking for long hours. Howerver, post operative care in special rooms at the clinic might be needed.
Best Calf Implants' clinics and Hospitals in Istanbul, Turkey
Find on our website top-rated hospitals for calf implants in Istanbul, clinic ratings and patient reviews.
Cost of Calf implants in Istanbul, Turkey
The cost of a calf implant in Istanbul, Turkey includes the price of the operation itself, anesthesia, hopitalisation in special rooms and medication.
Calf augmentation is considered an aesthetic procedure, that's why it is not covered by your insurance policy. It is a good idea to plan your budget in advance .
With the assistance of our counsultants, you can book a consultation, compare hospital and clinic prices in Istanbul, Izmir, Ankara, or Antalya. Book an appointment with the doctor for free.
Check out the Cost in Our Clincs:
Turquie santé will find and negotiate the best price for your medical stay in Turkey on your behalf. We collaborate exclusively with the most reputable clinics and hospitals in the field of calf augmentation in Turkey.
The price of a Calf Implant in Istanbul, Turkey is much cheaper than in Europe. We guarantee high quality patient care. Nonetheless, the final cost of the whole procedure is ultimately determined by the brand of the implant you choose.
Share this page
Frequently asked questions
The surgery is performed under general anesthesia, on an outpatient basis. The implant is anatomical (following the patient's anatomy) and made of a silicone gel. The surgeon makes an incision in the crease of the knee, places the prosthesis and then closes the incision with concealed surgical stitches using absorbable sutures.
Returning to work: starting from the seventh to the fourteenth postoperative day;
Returning to sport: after the second postoperative month.
Starting from the third postoperative month.
This procedure is contraindicated in the case of:
Patient with a serious chronic disease;
Patient with a heart disease;
Underaged patient;
Patient with a psychological illness.